Thumbs Up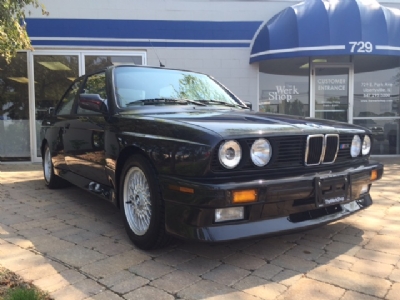 Owner : Jim and Connor

Year/Model : 1988 E30 M3 (VIN # : 2197450)
Update on February 2022:
Winning first place at the Colorado Concours d' Elegance for the second time since the restoration.  Congrats Jim and Connor!!!!
About this restoration : Jim and Connor
1988 BMW E30 M3 Story
There are few things that can bond a father and son together like a special car. A car that becomes a family project, to be worked on and sorted together. A car that belongs to both of us.
In 2008, my son Connor and I decided to find a project car. At the time, Connor was a 16 year old car enthusiast looking for something fun to drive, while learning to drive a manual transmission car.
Deciding which type of car to make our project took several months. By chance, we still had a copy of the September 2007 Edition of Automobile Magazine. The cover article read: "25 Greatest Cars of all time: The Ultimate List". Among the list of timeless British sports cars, classic American muscle, and outlandish exotics was the German BMW E30 M3. It is commonly recognized as one of the best sports car made in the last 50 years. Without knowing if any cars were available, or at what price, our search began.
After a few months of internet searching, we found a potential candidate on Ebay. A 1988 Diamond Schwartz Grey Metallic with 140,000 miles located in the suburbs of Austin Texas. Not submitting the winning bid initially, fate was on our side as the winning bidder did not purchase the car and the car came back to us. The car was ours, at (by todays standards) a ridiculously low price.
Three days later I was trailering the car a 1000 miles back to Denver, an adventure of its own. I knew we had a special car by the dozens of "thumbs up" I received from cars passing by. The car was at its new home.
The car was not in the best condition from an aesthetic standpoint. It seemed that besides the normal wear and tear that a 20 year old car suffers from, there was a long checklist of items to sort out including: hail damage from sitting outside, abrasions to the front bumper, cracked dash, poor paint, cracked rear wing, electrical issues including inoperable gauges, a finicky computer, and yards of electrical wiring that the previous owner installed for his after market stereo. Despite a clean car fax report, after getting under the car and consulting with my local mechanic, and looking at the right front control arm, it was apparent that the car had been in an accident or two. The basket weave wheels were bent and scuffed and the suspension needed to be upgraded.
But the car ran strong, was almost entirely original, and was just what we were looking for.
The next four years were spent tweaking and cleaning up the car. Any work that couldn't be done by ourselves was completed by a local German car specialist. Despite our best efforts, some mechanical issues and electrical gremlins could never be fully ironed out.
Despite its flaws, it was still a perfect car for weekend early morning drives on the twisty roads of the Rocky Mountains. Together, Connor and I could spend some quality time together talking cars and enjoying the open road. At a time when teenagers are being pulled in a number of directions, this car was one of the ways that we stayed connected.
In 2014 we decided it was time to get the car restored back to its original condition by a true professional. Our goal was to make it a "gorgeous driver". Stunning to look at but mechanically bullet proof. A car that we could drive across the country, take on BMW club tours, or continue our early morning drives in the mountains. The overriding theme was to "make it look and drive as it was built when it came out of the factory.
This is where Mike Marijanovic, and his dedicated staff at the Werk Shop in Libertyville, Illinois came in. While the full body of work that went in to the car is too long to list here, suffice to say that the car was completely dismantled, each part inspected, refurbished, or replaced, and then reassembled from the ground up. The result is what we believe is one of the finest stock examples of the original 1988 E30 M3 that you will find.
From the beginning, the car was never intended to be fixed and sold. This car is a keeper, one that will be passed down to Connor and hopefully stay in the family for generations to come. We are very proud of the result and look forward to many more years of father-son bonding with our M3.
Jim and Connor