Red 503 Cabriolet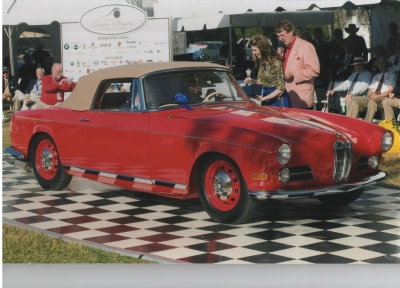 Owner : Don

Year/Model : 1956 BMW 503 Cabriolet (VIN # : 69081)
About this restoration : One of a mere 139 cabriolets built, this 503 offers 140 hp, 3168 cc overhead valve alloy block and head V-8 engine with twin Zenith carburetors, BMW 507 four-speed manual floor-shift transmission, independent front suspension via upper and lower A-arms and live axle rear suspension with torsion bars, and four-wheel hydraulic brakes. Wheelbase: 111.6″.
Like its rival Mercedes-Benz, BMW found itself in a tough postwar situation and needed to introduce a new model to gain the public's attention. The 501 and its successor, the 502, were successful in achieving this, but the prewar six-cylinder engine was dated, and it was time for a higher specification model. Highly influential in BMW's decision to market a V-8 was notable U.S. importer Max Hoffman, who used his talent for persuasion and the size of his distribution network to convince BMW that a luxury sports car for the top 10 percent could be sold in sufficient quantity. With engineering by Fritz Fiedler and styling by Albrecht von Goertz, the elegant 503 was introduced at the 1955 Frankfurt Motor Show.
Chassis 69081 was delivered new to the United States for its first owner; architect Emanuel Weisfeld in Laurelton, New York. It was subsequently purchased by well-known BMW enthusiast Barry McMillan, of Hilltown, Pennsylvania, in May 1976. In October 1979, he sold it to Dick Hamilton, of Arvada, Colorado, who acquired it as one of many projects that he was saving for his retirement. The car sat in Hamilton's barn for the next two decades until being acquired by BMW specialist Don Dethlefsen, of the Werk Shop in Libertyville, Illinois, who became the car's fourth owner in October 1997.
After about three years, Don had enough time to spend on his personal project, and he embarked on a thorough body-off restoration, which "left no stone unturned." The ladder frame and superstructure with aluminum body was completely disassembled, such that no two pieces stayed together. It took well over a year to properly rework and treat the aluminum and steel body shell. The hand-hammered coachwork is finished with all of the correct original Series I trim. Aside from numerous hours focused on making the body and paint just right, a significantly amount of effort was spent replating the chrome.
Like the many European cars that were imported to North America and ill-equipped to deal with the additional heat, 503s often overheated. This example suffered a seized engine early on by the original owner, and the original 3.2-liter unit was first replaced by one that had been part of a batch of smaller 2.5-liter BMW engines supplied to Talbot-Lago and subsequently acquired by legendary racer turned dealer Otto Zipper. A four-speed floor shift transmission from a 507 had also been installed.
The engine currently installed is an original 3.2-liter 503 engine that was sourced from Germany and today, has approximately 14,000 miles from new. Like the rest of the car, the engine and its ancillaries were fully rebuilt. For the preceding reasons, the radiator is purpose engineered and larger than the original but now fully capable of properly cooling the engine. Although accuracy is important, it was paramount to The Werk Shop that cars be functional as well as beautiful. Although the transmission in the Series I 503 was column shift and floor shift on the Series II, the 507 transmission was retained because it has better gear ratios and is a valuable piece in its own right. Aside from these two functional deviances, every other element of this car is perfectly stock.
During the restoration, all other chassis and suspension components were rebuilt or replaced. Even the original Becker Mexico radio was fully rebuilt to factory specifications and functions as it did when new. A good number of NOS parts were sourced from Germany, including the engine rebuild parts, brake parts, and some of the smaller detail pieces, like interior knobs.
The red exterior is complemented by a tan cloth top and tan leather upholstery with red piping. The English leather interior nicely complements the bright exterior, and the work is exceptionally presented, all the way down to the Wilton wool carpeting. The trunk is also fully reupholstered, as it was from the factory using the same "elephant hide" textured material that was originally used.
With fine details done to perfection and apologizing for nothing, this BMW 503 is remarkably complete and even includes the original tool box with its tool set, which is nearly impossible to locate. The photo-documented restoration was completed just days before its debut at the 2011 Hilton Head Concours d'Elegance, where BMW was the featured marque. The 503 was the recipient of one of the show's highest awards: Best Postwar BMW.
In 2012, this extremely special BMW sold for a record price at the RM Auctions in Monterey. She will now be going back home to Germany with her new owner.