Sherrod's tii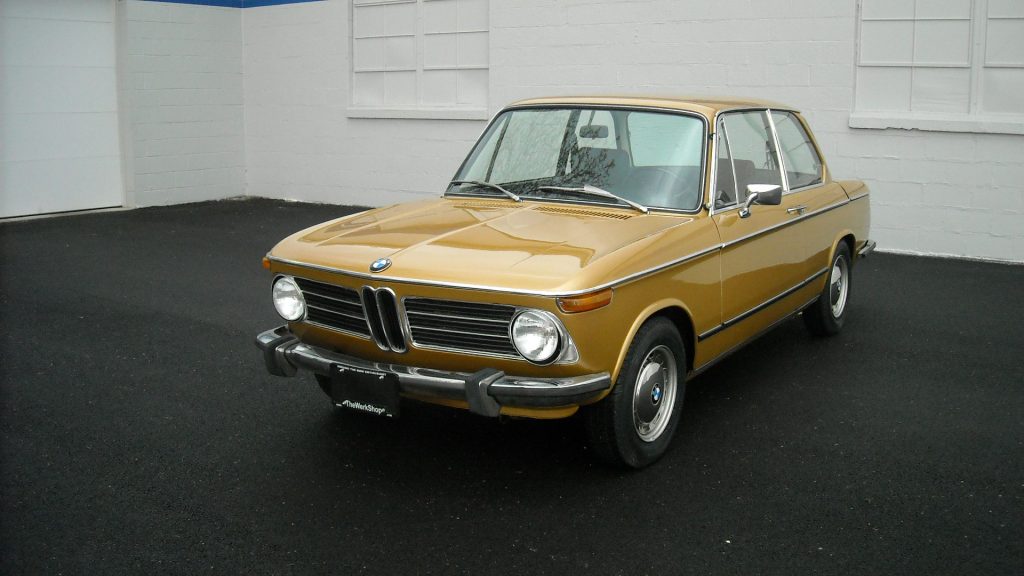 Owner : Sherrod

Year/Model : 1973/BMW/tii (VIN # : )
THE GOLD  CAR
When my parents were getting ready for me to be born, they realized that there was not going to be enough room on the back shelf of their Triumph TR-3 for both their son and their soon-to-arrive daughter. My dad went shopping for a safe, reliable family car that was good on gas but still a little zippy. He ended up at a BMW dealership near Rochester, New York, and bought the only new car he would ever buy in his life: a 1973 2002tii.
I grew up in that car, and it was no garage queen. We took road trips, went skiing, and hauled hay, plants, and people in it. It was aptly named "the gold car," and my spot was in the back seat behind Dad. I remember plowing down a friend's driveway through at least eighteen inches of snow without a slip or hesitation, and my mom driving on the NYS Thruway one summer, complaining that everyone was driving so slowly-only to look down and see that she was humming along at 90. The gold car has always been sneaky like that; its happy place is north of 55 mph.
After years of being the daily driver, the gold car was a little worse for wear, so Dad had a partial restoration done in the late 1980s. It never was quite right, and after that first restoration I was terrified to drive it. After a few exciting moments-including a brake failure that sent my dad through an intersection on red while trying to stop with the handbrake-the gold car was parked in the barn..
Several years later, I moved to Illinois and started dating my (now) husband. At the time he was leasing a 328is, and I asked him why he drove a BMW. He said. "For the reliability and engineering," I laughed. You see, my dad had become a collector of all things BMW; the gold car was just a start. He would find and buy BMWs out of driveways, barns, random farm fields, from friends of friends-nothing was off limits. He would drive them until important bits had fallen off, such as the entire transmission or gas tank; then they went into the barn. Minor problems, like the heat being stuck on full blast or Jimmy Buffett's Greatest Hits being stuck in the cassette player, didn't deter him.  As much as I love and appreciate the engineering of the brand, some of these future barn finds left me stranded more than once.
After we married and bought a house, my husband gave me a choice: remodel the kitchen or restore the gold car. Having heard some of the horror stories about the first restoration, my husband found someone who actually knew what they were doing: The Werk Shop in Libertyville, Illinois. Mike Marijanovic and his crew were amazing.  We didn't want a full restoration, we just wanted something safe and drivable. Boy, did they deliver!  When they were done with the gold car, you couldn't tell that it had sat in a barn for over fifteen years. We drove it on weekends, in parades, and even sometimes to work.
That autumn we decided to do the circle drive around Lake Michigan for our anniversary in the gold car. I was taking it in to our local import shop, Kauth and Mayeur, for a once-over when I looked in my rearview mirror-and all I could see was a headlight. I was immediately rear-ended by an intoxicated driver who was going so fast he actually drove up on top of the car and broke my rear window with his bumper. I had been going between 55 and 60 when he hit me. All I can say is that the universe was watching out for me that morning. I slid left through oncoming traffic between a truck and an SUV, hit the gravel shoulder, did a 180 that I don't remember, and slid down the embankment.
I remember having a conversation from the ditch with the woman from the SUV that I skidded past which was entirely, "He just hit you! He just hit me! He didn't even try to stop!" over and over.
When the time came to get me out of the car and a fire fighter came down the hill with the Jaws of Life, I said, "No!  You are not cutting this car, I'll climb out the passenger side." The EMT didn't think the door would open, and I said, "Just try it before you cut the car." Poof, the door opened fine! I may have said. "Ha-told you so!" but I was in a little bit of shock, so I think I get a pass for that. I walked away from the accident with a bit of whiplash, a sore wrist, and a car was headed back to Libertyville.
The Werk Shop got to bring the gold car back to life again. I heard through the grapevine that the person in charge of the first restoration was almost as upset as we were when he saw the damage. Nevertheless, it came home the next spring, better than ever!  It has been several years and one odometer flip since then, and we still drive it in parades, on weekends, and occasionally to work.
The Gold Car did the job my dad bought it for all those years ago: it kept his family safe. I think it's earned those capital letters.