M5 Touring Wagon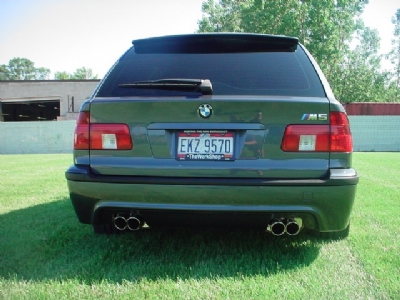 Owner : Barney

Year/Model : 2001 540iT (VIN # : )
About this restoration : Barney writes: Last week I picked up an M5 Touring wagon I had built by the top restorer in the USA.
It is a 2001 E39.
My wife had a 2001 540iT that had about 150,000 miles on it and it was in great shape. Good paint, good leather, never wrecked, always garaged, and then BMW announced it would no longer import wagons into the USA. I quickly went out and bought her a 535XiT before they sold out.
I was hesitant to trade in the 540 because it was in such good shape and I would get little money for it.
Let me stop and say that I really like the E39. It has good lines and a great cockpit. It was BMW's best 5 series ever including the E34 which I owned also and loved. I liked the E39 so much I looked for reasons to keep it.
My original thought was to take the 540 and add a cam, big throttle body, headers, cold air intake, 6 speed manual and maybe even a Ni kicker, big brakes and M style wheels. I wanted a BAD *** WAGON.
I started thinking about it more and more. Finally it dawned on me to find a wrecked M5 and transfer as much as I could. So I started contacting BMW shops around my immediate area and got the same response from all…" Yeah Sure". Nobody took me seriously. I wanted to do the work myself but was scared of the electronics and security moduals (which later proved to be true). I looked and looked for a wrecked M5 E39 but was unsuccessful. Apparently there is someone buying big block BMW V8's from all the big salvage yards so crashed M5's are not so easily available.
So I contacted a restorer in Illinois, The Werk Shop, who's owner is a big wig in the aftermarket and restoring world and he found a wrecked M5 with a frame twist and the drive line intact. I drove my wifes' 540iT to the shop in January of 2011 and picked up the swap in August 2011.
We swapped everything. From the engine, transmission, rear end, suspension, front seats, dash, steering wheel, door sills, dead pedal, even the trunk floor pan so we could get the stock dual rear exhuast. We had the seats re-coverd to match, even changed the brake handle. If you ever see this car you would swear, swear that oem BMW built it. These guys did great work.
I am sure that this thing drives like so many E39 M5's. But it is a lot of fun to sit at a red light with a hot rod next to you thinking you are just a wagon.
Bad *** indeed.