Leichtgewichts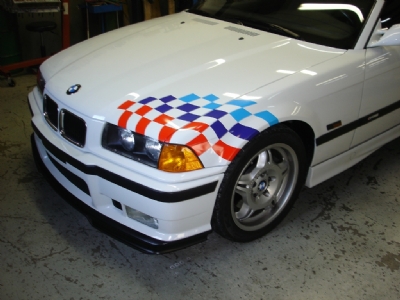 Owner : Brian

Year/Model : 1995 M3 (VIN # : EH07421)
About this restoration : The E36, 3 series "Leichtgewichts" is an interesting story and an even more interesting car. When Erik Wensberg was handling the Motorsport efforts for BMW NA and shortly after PTG started racing the E36 chassis, Erik convinced the folks in Munich to make a small run of special "Lightweight" cars for the newly formed BMW CCA Club Racing program, and "Uber Brand Enthusiasts" in general, just as Porsche has done so effectively for so many years.
The cars were conceived void of creature comforts; no radio, no AC, no sun roof, no sound deading materials, no undercoating, etc. thereby saving nearly 200 LBS from the stock production car. They were all painted White and all had a Motorsport Flag design on the driver's side front hood and the passenger side rear trunk. Initially, only 85 cars were to be made, but in the end somewhere around 200-210 were produced; BMW has never published the exact number.
What is not commonly known about the project is that an extended negotiation over content, or lack of same & US DOT legality led to the entire project being delayed one full model year. This was terrible news as the racing season would start in some two months, and many IMSA Fire hawk Teams were waiting for delivery, and the racing exposure was a key facet of creating dealer and consumer demand for the car. A quick compromise was reached where in near desperation , Wensberg negotiated with M to build ten unregister able prototype versions -by hand- so they could be sold to the race teams and hit the track. But by then the real damage had already been done, as the remaining production cars were destined to arrive as Model year 95 vehicles, in the late fall, as most all dealers were waiting for their '96 models.
The U.S. BMW dealer network had some 400 dealers at the time, so not every Dealer received this model and those that did only could get one car. The retail price was $36,500.00, and a few of the early sales were over sticker. However, the car did not find a home in Club Racing as the series was to new and the car was too expensive for the new Club Racers. Nearing the end of the model year, some Dealers ended up getting "stuck" with their allotted car and many were sold at below sticker price, some as low as $27,000.
Several years later the car became recognized for what it really was and Club Racers began hunting them down, many became very competitive race cars. They also became very collectable and are an awesome street machine. Many years after their intro, Brian wanted to add one to his collection and hunted for some time before finding a very low mileage example. We installed all the special parts that came with the car, which were in cardboard boxes in the trunk. The rear wing, along with a baffled racing oil pan, front sub member strut brace and a trick retractable racing front splitter. As none of these parts were DOT tested or eligible, they were delivered in the truck of the car for "off road use only". One of many hoops the authorities put us through before the project was completed. We then serviced it, repaired a few faults, and gave it a concours detailing. It now resides in his collection in Denver, CO.
As a side note; I drove this car some 200 miles on all types of roads before the delivery and must say, for me, it just may be the best BMW drive I have experienced, a real race car that can be driven on the street. So many were used up as race cars that few choice examples exist today. Today Wensberg casually refers to the project as "the great idea that almost got me fired before we even got started with building M in this country."