Estate Wagon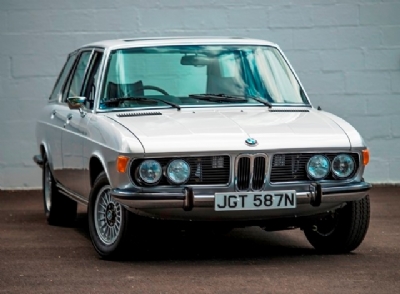 Owner : David

Year/Model : 1974 3.0Si Estate Wagon (VIN # : 3270603)
About this restoration : David from England has requested we bring this rare BMW Estate Wagon back to it's former stature. It was being restored by a shop in England for many years when David pulled the project away from them because he was not happy with the quality, nor the length of time that had passed. We have since started this restoration, and have been asked by David to start from scratch.
Being one of only 19 ever made, we knew parts for this vehicle would be an issue. As luck would have it, we serendipitously found a parts car in England that we had shipping over to our shop.
To get a better perspective on why enthusiasts from around the world are choosing to restore in the U.S. (and learn a little more about what makes them so passionate about the marque), we asked David to share his take on the following four questions:
1. To what do you attribute your passion for cars and what's the attraction to BMW as a mark?
2. What is it about THIS car (the one you're currently restoring) that made it a "must-have" to restore and add to your collection?
3. Why did you choose The WerkShop to handle the project for you and why did you choose to have the car restored in the U.S.?
4. If you could add any other BMW to your collection, which would you choose to restore next?
Here's what he told us…
1. I have no idea of where my passion for cars came from. My mother used to attribute it to having driving lessons while she was pregnant with me (and mothers always know best)! My interest in BMWs goes back to the early 70s when a wealthy friend of my father's bought one of the very first 2500 E3s and then took me out in it and did 100mph! I was totally hooked by the whole experience and the vision of these machines flying down the autobahns was irresistible. Remember, the British motor industry was turning out some pretty awful stuff at that time!
2. 3 Litre E3s have always been special to me. Smooth, fast and because of the high pricing at the time, very rare in the UK. We didn't have a Max Hoffman trying to get the prices down! E3 wagons were the rarest of the rare, used only by BMW Motorsport and a few lucky gentry. A bit like the legendary 250bhp Alpina 3.0Si of 1973. People knew it existed but nobody had ever seen one!
3. I chose The WerkShop after reading an article in a BMW magazine. Their workmanship and attention to detail seemed to be of the standard that I was looking for. I didn't know of anyone in the UK who took classic BMWs quite so seriously.
4. The only other BMW of any age that I would add to my collection is a late 3.0CSi. The 3.0CSL may be more sought after, but I can relate more closely to the CSi and besides, I wouldn't have to worry about the aluminium panels. It's more usable and not that much slower.