"Anthrazit"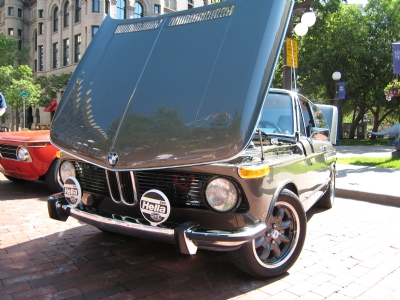 Owner : Tom

Year/Model : 1975 BMW 2002 (VIN # : 2363060)
About this restoration : Tom is a fellow who has moved around a lot. His job has taken him and his family to many different cities and always, the 02 has moved with them. We went to Atlanta to pick up Tom's car as he wanted to re-make this long time friend. We made a Stage II racing motor, new paint in its' original Anthrazit Metallic color and a custom interior. Tom moved again during the project so we delivered her to St. Paul, Minnesota.
**UPDATE**
Several weeks ago we trailered our 1975 BMW 2002 as one stage (one of many) of our relocation back to St. Paul, MN.
My wife Kris had heard about the St. Paul German CARFEST occurring the following week and happened to mention it to my oldest son Matt.
Matt decided to enter our car in the event on a whim as we have never shown the car before.
Taking it out of storage and cleaning it the best he could, he proudly parked it at the end of a long line of BMW's on display.
It was a great show- Porsches, Mercedes Benz, BMWs – both old and new- the largest showing of German cars in the thirteen years that the St. Paul German car clubs have been putting on the show.
During the show Matt became convinced that "we were going to get some sort of award" based on the large number of people that gathered around our car and their comments. Kris and I did the best we could to prepare him to be disappointed- but Matt was utterly convinced we would win.
Well, guess what, we took First Place! Attached please find a photo of our car, and a photo of myself and Matt- who is the one in the picture holding a plaque that will never leave his possession.