"2002 Tii"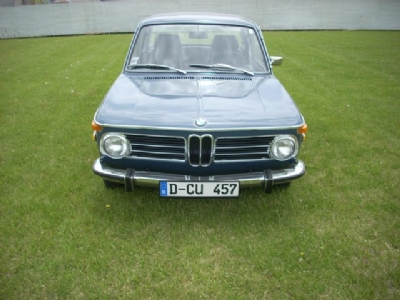 Owner : Paul

Year/Model : 1973 2002 Tii (VIN # : 2763761)
About this restoration : Paul bought his car, now called "Baby B" because it was so small in July 2005, from a guy in his neighborhood. A few years earlier the neighbor had brought the car from California to Chicago with 170,000 miles on her. The car was in fair condition, the engine having been rebuilt once before and it had a few rust spots in all the usually spots. There were no past service or work records and the speedo had been broken for awhile.
Paul has liked BMWs since he was a kid and when he saw this '73, 2002tii it was love at first sight. Throughout the first summer of his ownership, Paul began talking with various sources about restoring his car to original factory specs. When he brought it to us we gave it a complete evaluation and determined the engine and most of the mechanicals to be sound but the body and interior needed help. Paul had a meager budget so we approached his project based on his budget and his needs. He wanted new paint first so we stripped the body, repaired all the bad metal and repainted in the same factory color using the Glasurit system, the same paint manufacture that BMW used for these 02's. We replaced some of the bright work, straightened and re-chromed the bumpers and sourced correct wheels and tires so the car looked like factory new on the outside.
On the interior, we repaired the cracks in the dash and then recovered it with original factory material. We replaced the headliner, carpet and door panels. The seats were left alone as they were not bad and the budget did not allow for a complete interior.
On the mechanical side, parts were replaced on an as needed basis but with an eye toward practicality. The radiator was replaced with a larger unit to keep the engine cool in Chicago traffic, aftermarket anti roll bars were added and we changed out the front struts and added a choke to aid in better starting.
Here's what Paul says, "The car is an ongoing project for me. Although a lot of work was done at two different times, there is always maintenance that I insist upon having done. The car looks and drives great and gets lots of attention wherever I go. I have done a few small road trips in the car and I prefer to drive it on lightly traveled roads away from suburban areas. Nevertheless, it does get driven on weekends during the summer months to exercise it, but it is stored during the winter. At some point in the next few years we will rebuild the motor and re-upholster the seats. I enjoy the car and cannot imagine selling it; at this point, it has become part of my soul."