1958 BMW 503 – The Countess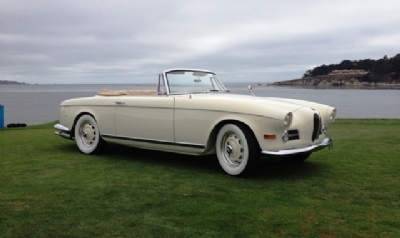 Owner : Karra

Year/Model : 1958 503 (VIN # : 69283)
About this restoration : It all started with a random phone call, an inquiry if you will. A fellow had found a 503 Cabriolet in a barn in Ohio and wanted an idea of what would be involved in restoring the car. However, his many attempts to buy it failed as he and the seller could never agree on a price. Being thankful of the help we gave him, he called back and told us where the car was.
Mike and Don immediately contacted the seller and drove to New Albany, Ohio to look at the car. It was missing some major parts and the price was unreasonable. After a year of many phone conversations, which included discussions of current market conditions and restorations costs, a fair deal was struck.
The car was originally sold into Belgium and then bought and imported into the US by the fellow in New Albany. He has a small independent German car repair shop behind his rural home and having emigrated from Germany, had the BMW passion. He drove the car a few years after he got it and then decided to do some major repairs. He dissembled much of the car and then lost interest, parked it in the corner of the barn and there it sat. And– it sat for 35 years!
Upon arrival at The Werk Shop, we cleaned it out, took some photos and offered it for sale with a restoration. As bad as this car looked, many wanted this collectable. However, it was a woman from California, herself full of BMW passion, who wanted to not only restore this BMW, but also attempt to get an invitation to show at the famous Pebble Beach Concours d'Elegance; this being the most prestigious car show in the world.
The Werk Shop accepted the challenge and over a three year period restored this BMW 503 to perfection. Many obstacles faced us as we moved along. The all aluminum body, once stripped, showed many trouble spots. Much bad aluminum had to be cut out and new pieces made to fit. The V8 engine heads were bad and we had to search the world to find suitable replacements. Many missing or unusable parts had to be machine made as they can no longer be found and this car had to be, as originally factory built and perfect, to have any chance of getting an invite to Pebble. Another problem was the convertible top. After 35 years, only shreds of the original top were left and no one, anywhere, had a pattern. The top was made by studying many factory photos and getting measurements from those photos.
While we were restoring the car, our customer was working on her presentation to the Pebble selection committee. She learned everything there is to know about the 503 and after making her formal submission for entry into the 2013 Concours, received a letter of rejection. The classes were already set and her car was only near completion. We all learned that only finished cars are accepted and we had another two or three months of work left to go.
Then a letter arrived from Pebble asking our customer if she would be interested in participating in the 2013 Pebble Beach Motoring Classic. The 1500 mile tour is a prelude to Sunday's Concours d'Elegance and starts in the Seattle area and ends in Monterey. The 503 would be finished and road ready by the start date and our customer accepted the invitation. During the 10 day tour she experienced blistering temperatures, twisty and tortuous roads and a steep 6,000 ft. climb to Mount Hood. With these conditions a few cars had to retire. The 503 never missed a beat and performed flawlessly.
Now, many of the judges and selection committee members also participate in the Motoring Classic and when our customer made application again for the 2014 event, she received and invitation to show on the 18th fairway. A dream comes true. Just to be invited to show a Pebble is a huge accomplishment.
The 503 was placed in Class O-1 Postwar Touring. Eight other incredible cars were in the class. An Alfa Romeo Special, a beautiful Delahaye, two Bentley's, a Talbot-Logo Franay Coupe, the XK120 Jaguar Geneva show car proto-type and a Cisitalia 202 SC Farina Convertible. The BMW 503 brought home a third place Pebble trophy, and with it a drive onto the legendary presentation stage. Quite a feat for a BMW production car from 1958. It was the first time in nearly five decades that a BMW has won and received a podium finish in an open class.