1990 BMW Z1 Roadster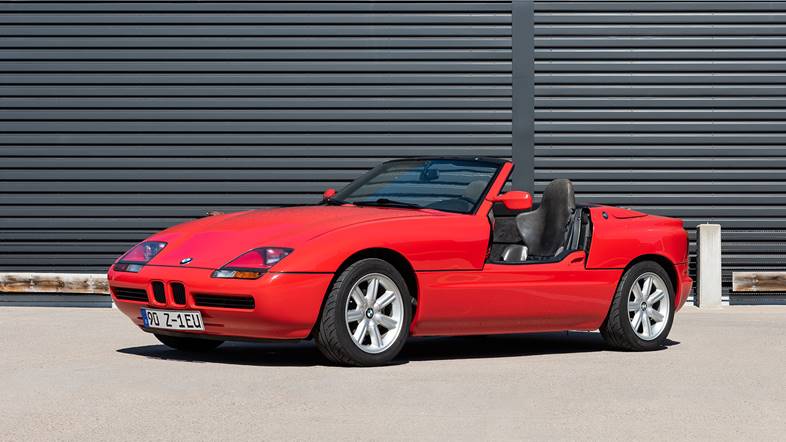 About this restoration :
VIN:  WBABA910X0AL02508  
The BMW Z1 was the first product to be developed by BMW Technik, a new division established in 1985 to develop futuristic processes and products outside of the constraints of regular production.  Although probably intended for production right from the start, the Z1 remained such a well-kept secret within BMW that most of the company's employees had no idea that it was anything other than an experimental prototype. 
Development was swift; however, BMW was doing their best to keep all of the new Z1's specifications secret.  New innovations like the rear suspension, which was to be used in the next 3-series cars still some four years away from production.  Or, the power assisted drop-down doors that open with the push of a button and disappear into deep sills that also offer outstanding side impact protection to driver and passenger — its remarkable demountable plastic skin panels, all were design elements not seen in the past.  The floor pan was the same as used in the 325i but heavily modified and made of zinc coated steel to resist corrosion.  Welded to this floor was an inner-body structure which contains a rollover bar within the windshield frame.
The engine used was the 6 cylinder, 2.5 liter, 170hp from the E30 325i, located in a "front-mid" position; some 11.8 inches behind the center-line of the front wheels.  This gave a weight distribution similar to that of a mid-engined car, 51% of weight at the front and 49% at the rear.  All Z1's are 5-speed manual and can accelerate from 0 to 60 in 7.9 seconds, maximum speed is 140 mph. The Z1 was destined from the beginning to enjoy good looks and excellent handling characteristics.  8000 cars were built between 1988 and 1991, (6,443 were sold in Germany and the remainder trickled out to Italy, France and the UK.  None were sold in the U.S.
In 2005, a BMW dealer in Mechanicsburg, PA purchased this car from its' original owner in Hamm, Germany and imported it into the U.S. for his own personal collection, the current owner acquired the car in 2013.  Hemmings Sports and Exotic Car magazine did an eight-page article on this very car in their January, 2011 issue, check it out if you can.
This choice example, with only 26,600 miles on her, needs nothing.  It is ready to drive with its' doors up or down! Only 30 to 35 examples are estimated to be in the U.S.  It's a real eye catcher and appreciating in value! 
Priced right at $52,500…a complete set of records and additional parts included.
26,600 mileage
For more information please contact
Don Dethlefsen. 847-910-9170. don@thewerkshop.com