1974 BMW 2002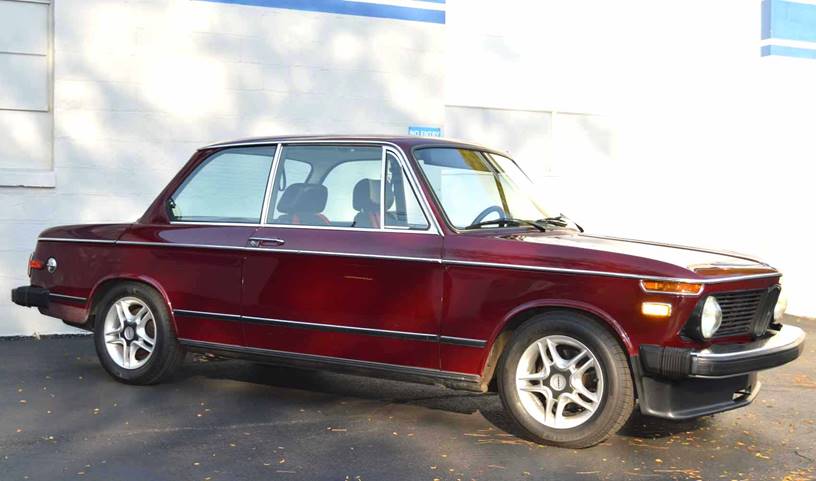 About this restoration :
Here is a super straight BMW 2002 example that is wearing its factory original iconic
Malaga finish and it still has an amazing shine to it!  A fantastic driving car that feels great around town and on the open road, but it really loves to be pushed through the curves.  Under the hood is a high performance engine mated to a 5-Speed transmission with dual Weber carbs that make all the right sounds when going through the gears.
Originally owned by long time Windy City Chapter BMW CCA member and driving event enthusiast Dale Jenkins who set this car up to handle, and that it does!  Other mechanical upgrades include: Tii brake booster and front struts;   2002 Turbo calipers and vented rotors;  Bilstein struts and shocks;   Strut camber plates and cross-brace; New H&R springs;  19mm sway bars with new urethane links;  Battery relocated to the trunk and New Michelin Defender tires.
The car has many period accessory features such as Recaro sport seats, Schroth track harnesses, Wink panoramic rear view mirror, VDO Gauges, Racemark steering wheel, Kamei front spoiler, and domed headlight covers. 
In the left rear quarter window we find an original "BMW(no space)CCA" decal as well as great historic decals from two of the Midwest's finest BMW enthusiasts shops of old;  Midwest BMW Service and BBE BMW Specialists.
It has 68,855 miles on the odometer and is a fun car to drive and admire with so many unique details!
It needs a few little items for the next owner to invest in:
1. Older Borbet wheels could be replaced with Panasport wheels or some other period looking rims.
2. Support webbing for each Recaro seat bottom needs to be replaced (webbing has failed).
3. Center front grill should be replaced with new.
4. Small area of rust on left rear rocker panel should be repaired.
5. If AC is wanted, the unit is currently inoperative and a compressor and lines would need to be installed.
Call Don for the price.
For more information please contact
Don Dethlefsen. 847-910-9170. don@thewerkshop.com