A Tale of Two '02s
Story by Dave Farnsworth
Photographs by Klaus Schnitzer
At one time or another, every BMW enthusiast has to face up to the have-yourcake- or-eat-it dilemma. It may not be with your first BMW, or the next one, or the one after that; but one day, as you're cleaning the brake dust off your wheels after a driving school, or attacking an entomologic smorgasbord after a tour, or just scrubbing the shoe-polish numbers off your side windows after an autocross, you step back and realize you're looking at a classic, beautiful piece of German engineering—surely one worth preserving, worth restoring into the most pristine example of the breed ever to grace the planet, or at least your local chapter. However, you bought this thing to drive, and let's face it: Driving is really what BMWs are all about. Driving is what brought you to the marque in the first place. Driving is what Munich intended. And not just driving, but enthusiastic driving.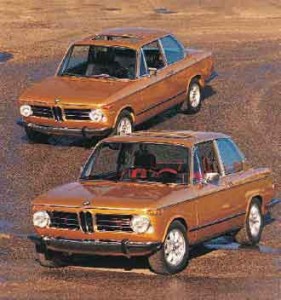 But every mile adds wear and grime, another layer of patina on the sculpture. Use it means use it up over the long haul, though most of us keep trying to possess the pastry while steadily nibbling at the edges. You tell yourself that regular maintenance and occasional bursts of analretentive detailing will make up for the road trips and the occasional autocross. You flail away with the Q-tips and the zymöl, maybe even pop the hood and get the underside of your alternator, where you know the Crud Gremlins have found an oasis. But you also know that if you actually drive the car much, you are facing a world of grime, bird droppings, oil splotches, rain, and just plain old general filth.
The conundrum becomes even more pointed if what you cherish is over a quarter-century old. Do you go all out on the Preservation Path, relegate your car to garage-queen status, trotting it out only on special occasions? Or do you have a ball driving it, equip it with the upgrades that have stood the test of time and track, and accept that it will acquire the fine patina of a performance vehicle well and truly used? For most of us it would be coin-tossing time, but for Bryan Lancelot, this dilemma led him in a different direction.
Lancelot is a young, easy-going native Georgian who spent his early driving years getting his undergraduate and MBAdegrees at the University of Georgia and Georgia State. But the long journey that led to the creation of a Bimmerphile's dream began back in his teens. "A couple of people in our neighborhood had 2002s," he recalls, "and they were like nothing I'd ever seen before." Growing up in Atlanta, Lancelot was the product of typical American family values. "I grew up in a family that had Caprice Classics," he laughs. "That was their idea of a sports car, complete with vinyl landau roofs that peeled away after about six years." While his cohorts were lusting after F-bodied GM products, Mustangs, and everybody's favorite plastic boulevardier, the Corvette, Lancelot found his automotive taste drawn to the little Bavarian box because well, just because "it looked so cool!"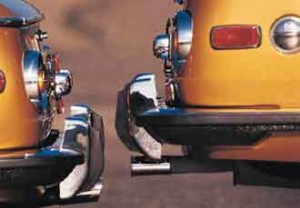 Finally, a year after graduating, Lancelot bought his first 2002. "I did absolutely no research on what year 2002 to go for, or what to look for in a used one," he admits. "I really knew nothing about them, I just liked the looks. I checked the want ads, and when an '02 appeared in my price range which wasn't much I bought it." This is a situation familiar to many neophyte enthusiasts, whose infatuation with a particular vehicle almost always leads to an inevitable outcome. "I bought a run-down car based on what I could afford at the time," says Lancelot: the square-tail-light 1975 model, often considered thanks to a combination of draconian government regulation and the relatively fledgling state of manufacturers' skills in emission control to be the most cantankerous of the brood. But that rundown, nasty '02 lasted as daily transportation for eight years.
Besides transportation, though, it provided a valuable learning experience. "I learned how to do a lot of stuff on the car. It was real 'on the job' training," says Lancelot. He also threw a lot of money at it in the process: Over several years, the car acquired a remanufactured engine and twin Webers, which "helped deal with a lot of the pollution-control driveablity issues." He added numerous suspension parts, the "cheapest vinyl I could find" to recover the interior, and a paint job from Maaco.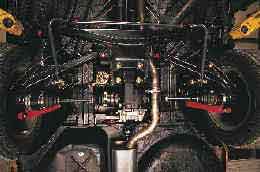 At the time Lancelot bought the 2002, his next-door neighbor, who owned a BMW Bavaria, urged him to join BMW CCA. That led him to many of the Club driving activities, including numerous trips to Road Atlanta. But when the second child arrived and practicality demanded a four-door, the '02 had to go. It was replaced, as Lancelot fondly remembers, with a really practical four-door sedan: an E28 M5. But the '02 experience had left him with two long-term residuals: membership in BMW CCAand an abiding love for the 2002.
Over the ensuing years, cars came and went, but the desire for the ultimate 2002 never left in fact, it grew so when Lancelot found himself living in Denver as the head of finance in WorldCom's Acquisitions and Mergers Department, with the means to really get serious about it, he set about acquiring the right 2002. He had already decided to try to find an outstanding example of the marque rather than trying to convert a roach into museum piece. "I knew how much money I put in mine over eight years," he says, "and you never get that money back. Maybe somebody's put twenty to twenty-five thousand into a car; I might be able to buy it for ten to fifteen." But a year and a half spent scouring Roundel ads, the Internet, Hemmings Motor News, and any other reasonable source for the perfect 2002 proved fruitless. A few cars surfaced, but none met his expectations.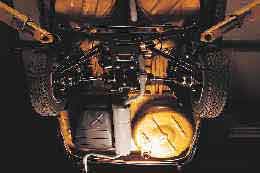 Finally, unable to find the right car, Lancelot decided to see if one would come to him, so he put a "car wanted" ad in Roundel. He got few replies, but by the time he wondered if he would ever find what he was looking for, he received a call from Don Dethlefsen, a Chicago BMW enthusiast and restorer, and also the owner of one of the nicest round-tail-light 2002 tiis around.
Lancelot flew to Chicago and drove the car. "It's a great car," he says, but not quite what he had in mind: "I would have done it a little differently." As the conversation progressed, however, Dethlefsen, who owns a trucking company, revealed that he was about to start a side business restoring 2002s. Lancelot liked what he saw of Dethlefsen's prior restorations frequent O'Fest Concours and People's Choice winners and the idea of having Dethlefsen build him the perfect '02 to his specifications seemed the right solution.
Then the whole thing began to mushroom as Lancelot began to consider the eternal dilemma. "Okay, I'm going to do one, and this is what I like," he says. "But you know what? I really love these cars, their lines, everything about them. I consider it artwork. I can sit and just look at a '72 or '73. I really want one that is just a garage queen that I can look at and drive occasionally."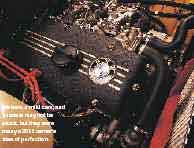 On the other hand, he had one other special desire. "I never drove a 2002 when it was new," he says. "Every '02 I drove was modified. When you go back and read the automotive press back when the cars were new, they all said there was nothing like it. Why was it so different? I really wanted one exactly like it was when it came from the factory. I wanted to drive one on the original tires and the original suspension. I wanted that feeling because I never had the chance when they were new. I believe in these cars, and I want to keep one for twenty, thirty years and I want it perfect.
"But I also love them because they're fun as heck to drive so I decided we should do two."
Lancelot and Dethlefsen began looking for two cars in late 2000 and early 2001. Of course, at that time, Lancelot laughs, "The stock market wasn't so bad, so it seemed like a good idea." Dethlefsen found both cars, one in San Diego and one in Los Angeles, "and they were perfect for what we wanted to do."
When the cars arrived at Dethlefsen's shop in February, 2001, one was a dark gold, the other red. Alittle research revealed an amazing coincidence: The cars were only six VIN numbers apart, and had undoubtedly rolled down the assembly line together. And they were both originally painted Ceylon, a very unusual light metallic gold. The decision to restore them to their original and unique color was an easy one.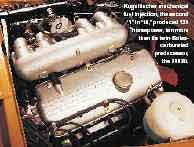 The hunt for brand-new original parts proved to be a challenge, but one Dethlefsen jumped into with gusto and a fair bit of experience. Starting with the local BMW dealer and a slew of Roundel advertisers, parts began coming in. Then eBay, various Internet sources, chat rooms, and enthusiast forums were regularly combed. But a number of items were even more difficult, and a little luck never hurt. The dashboard, for example, surfaced when a discussion with the cars'engine and suspension builder, Tom Kelly, revealed that decades before he'd sold a new dash to a guy who was planning a restoration one which Kelly thought might have gone the way of many such plans. Afew more calls, and sure enough, the project had been scrapped ages ago, but the new dash still in its factory wrapper was still around, and yes, it was for sale for a good price. As Dethlefsen observes, "These days, everybody knows what they've got; there are no bargain-basement restoration parts left out there." He also thinks that Lancelot's show car may very well be one of the last that could be built of all new parts.
The other car has been built as a dualpurpose street/track car a little surprise for Lancelot's wife, Lisa, an '02 enthusiast since riding around in that original '75. Unlike the show car, the street car is well, it's exactly what most 2002 drivers were looking for back in their crowning era, the car you'd wind up with if you owned a 2002 and spent a few years making it match your driving style. The engine sports twin Weber 40DCOE sidedrafts, a Schrick 292 cam, and 9.5:1 Mahle pistons; the improved intake is matched downstream by Jet-Hot-coated Stahl headers feeding a Stebro stainless-steel exhaust system. "I don't like building 'em too radical," says Dethlefsen. "This will put out around 150 horsepower, a nice streetable set-up for the wife and kids."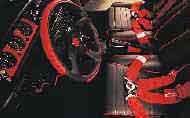 That power winds through a five-speed box from a 320i totally rebuilt, of course to a track-calibrated suspension with Bilstein shocks all around, upgraded brakes, and slightly larger-than-stock sway bars. The unique interior is from a 2002 Turbo, reupholstered in black leather with red piping. The effect is striking. Simpson Cam-lock belts and a three-spoke Momo wheel add more splashes of red, and the whole environment is kept cool with upgraded air-conditioning that uses a Behr rotary compressor.
There is no accounting for a passionate obsession, but many a collector in the throes of restoration has had to consider that the cost of restoring an older car could easily cover the cost of a new BMW or two. With his dream cars nearing completion, did Lancelot have any regrets? The enthusiasm and excitement light up his face. "Not a bit," he says. "This has been a great experience, and the cars well, the cars are everything I hoped for." He is eager to get them both back home to Denver, two radically different but equally striking interpretations of a true classic, and show them off at Oktoberfest.

Where, as the perfect answer to the age old dilemma, they'll surely take the cake.